Architectural structures continue evolving as we're introduced with new coatings, materials, and functionality. All these innovations allow architects to embrace aesthetic, functional, and unique designs fit for everyone's individual taste.
But there's one thing architects and designers shouldn't scrimp on or gamble with: Protective coatings. Protective coatings need to meet the highest standards. If your design risks aesthetic or functional deterioration, you'll end up facing extensive and costly repairs or even a shortened lifespan of your structure.
If you're planning to have an enclosure built for your pool's protection, there are different protective coatings to consider. Today, we'll tackle two more popular ones: Powder coating and liquid paint.
The Importance of Protective Coating in Pool Enclosures
In a typical pool enclosure, the major material used is aluminum, known for its strength and durability. This material can last throughout a structure's lifespan!
Unfortunately, the aluminum system poses the risk of compromise due to low-quality or sub-standard protective coating. It can cause chalking, erosion, and loss of color or gloss retention.
This is why protective coatings for pool enclosures must meet the American Architectural Manufacturers Association (AAMA) 2605 standards. Furthermore, the Metal Construction Association says that pool enclosures must possess these qualities:
·      Humidity Resistance
·      Cyclic Corrosion
·      Color Retention
·      Coating Erosion
·      Gloss Retention
It's the reason why people choose between powder coating and liquid paint, which have their own advantages. Let's take a look at what both these protective coatings entail and which one is best for pool enclosures.
Powder Coating or Liquid Paint
Powder coating and liquid paint contain additives, pigments, and resins. However, liquid paint contains solvents, while powder coating doesn't. The solvent in liquid paint keeps the substance in liquid form, compared to the dry powder coating.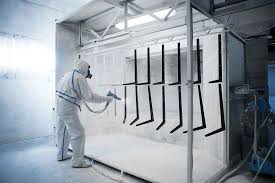 But what makes them different, and which is best for a pool enclosure?
About Liquid Paint
Wet paint is the more traditional process, which consists of applying liquid paint to metal products as a finishing. Most processes would now use a pressurized vessel, spray, or pump, ensuring that the paint is delivered evenly.
Before applying liquid paint, the metal structure is thoroughly cleaned with wet-blasting liquid. Afterward, the liquid paint is applied until the material is evenly coated with the necessary paint thickness.
Liquid paint offers the following benefits:
·      This finishing is suitable for products that can't be heated for powder coating (this does not apply to pool enclosures). You don't require an oven for finishing.
·      Wet paint comes in many more colors than powder coating so that you can avail of custom colorwork.
·      Wet pain produces a thinner finish than powder coating, which is more suitable in products requiring a thinner finish.
·      This process is more economical, with a lower initial investment than powder coating.
However, there are a few drawbacks to using liquid paint as your pool enclosure's finishing.
·      Liquid paint isn't as durable as powder coating. It will require more maintenance and re-finishing over time.
·      It will require multiple coats to get an even and unmarred finish, which is challenging and entails multiple finishing coats. Powder coating will give you better chances of applying it evenly.
·      Paint is actually more hazardous and will require more investment in mitigation measures and insurance premiums.
We don't recommend using liquid paint as a finishing for pool enclosures as they don't withstand harsh environments as well as other protective coatings, like powder coating.
About Powder Coating
Powder coating is applied electrostatically, surfacing as a free-floating and dry powder. Afterward, heat is used, finalizing the coating.
Powder coating can be made from various materials, like acrylics, polyester, polyurethane, polyester-epoxy, or straight epoxy. The finishing process will result in a thick and hard finish tougher compared to the conventional paint.
Here is the benefits powder coating offers:
·      It will have a dense and thick finish on metal products (like aluminum). As a result, you get a more durable protective coating than liquid paint.
·      Powder coating is a one-coat finish, making the process easier and quicker.
·      There are different custom finishing colors and textures so that you can choose your preferred design.
·      Powder coating is more environment-friendly as it will produce fewer volatile organic compounds.
·      You get the most even finished surfaces with powder coating as it's sprayed and heated without any application traces or drips. You can also reuse any powder coating overspray, resulting in lower disposal costs.
There is only one major drawback to powder coating: its price. Powder coating will require spray materials, an electrostatic booth, and an oven, which are pricey, especially for a small project. However, you get what you pay for in the long run, especially when building a big pool enclosure that requires more protection to look and perform excellently for years to come.
Which is the Better Protective Coating?
With all that in mind, we believe that powder coating offers the best protection for pool enclosures, especially with the different benefits it provides in terms of design and durability.
While there are certain textures both powder coating and liquid paint can equally achieve, most structures will require a particular medium to attain an attractive and functional finishing easily. Powder coating allows you to achieve more natural textures with a thinner layer of powder coats, compared to liquid paint, which requires multiple coatings.
While you can still achieve that high-floss finishing using liquid paint, it's recommended to invest in powder coating for the same result but with better coating quality and strength to resist chips and scratches. 
Wrapping It Up
There are different protective coatings and finishes you can look into for your pool enclosure, but powder coating remains one of the ideal choices. Here in Covers in Play, we ensure that our aluminum pool enclosures go through a powder coating process to withstand any environment.
If you're strongly considering a pool enclosure for your home, don't hesitate to contact us, and let's discuss your options.