Here at Covers In Play, we have noticed that new customers tend to contact us after heavy snowfall and powerful storms. Unfortunately, many of these homeowners end up having to deal with collapsed structures due to poor materials and designs without a proper pool enclosure warranty from other manufacturers. The pool enclosures would only last for a few years, or even just a few months, only to fall once the high winds or winter season comes along.
A pool enclosure's most critical function is to protect the pool and deck from any weather conditions and extreme elements. These structures should let homeowners enjoy their pool no matter the season or weather. May it be raining, snowing, or very windy, pool enclosures are supposed to be strong enough to withstand your area's weather.
But if there's one thing to remember, it's that not all pool enclosures are made the exact same. Read on as we talk about the vital factors to look into as you look for a pool enclosure that can stand the test of time! That way, you will get the best value for your investment.
Check the Pool Enclosure Warranty
This is a mistake we see time and time again – Homeowners would ignore the pool enclosure warrant terms and conditions. You must remember that the pool enclosure warranty coverage would determine the enclosure's overall quality.
So, if the pool enclosure manufacturer's warranty only has limited coverage and/or is covered for a short period, that's a red flag! That's because the manufacturer might have received complaints about collapsed or damaged pool enclosures. As such, it has prompted them to implement numerous restrictions for the warranty.
Unfortunately, we've received queries and customers reporting that their pool enclosures made by other manufacturers only lasted for a year or so. The pool enclosure would break apart and collapse under only a few inches of snow!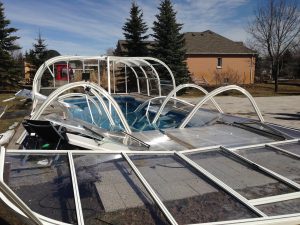 And no one wants to experience that. After all, pool enclosures are costly investments. If your pool enclosure breaks apart, you'll obviously hope that the pool enclosure warranty covers such damages.
Pool Enclosure Manufacturer's Warranty Examples
Now, let's take a look at actual pool enclosure warranties other manufacturers offer!
"The warranty does not cover damage caused by external factors, e.g., natural phenomena (layer of snow thicker than 10 cm, hailstones larger than 2 cm in diameter, wind at speed exceeding 100 km/h) or mechanical damage caused by a third party." 
Note that snowfall can reach over four inches of snow come wintertime in many areas around Canada and Northern USA. Needless to say, that point mentioned shouldn't be considered a natural hazard for enclosures. That warranty is a bit dangerous, with the warranty void when the damage comes from
"Exceeding prescribed snow or wind loads and any other harmful condition other than recognized as normal conditions."
If a structure cannot carry the load of over four inches of snow, how can one expect it to put up typical weather conditions?
Take a look at another part of the warranty: 
"It takes two persons, one on each side, to slide the enclosure simultaneously. The enclosure must remain in a fully compressed position during high wind and snow conditions. End panels must be properly secured to the ground surface, with doors closed and locked… Scheduled cleans and the removal of excessive snow from the roof system and all sill areas is mandatory."
And what happens if you won't perform all those necessary and mandatroy maintenance procedures? Here is what follows after that part of the pool enclosure warranty:
"Failure to follow these safety instructions can lead to damages, personal injury or cancellation of limited warranty."
All that money you invested in a supposedly robust pool enclosure would end up down the drain just because your area's average weather conditions can damage it. Even worse, not adhering to all those strict maintenance procedures can end up voiding the limited warranty!

Take Note
That's why it's vital to search and hire an experienced pool enclosure contractor with a reputation for building high-quality products. Furthermore, it's best to read through the guarantee of the enclosure and ensure it covers everything necessary without red flags.
Covers In Play Pool Enclosures
Here at Covers In Play, we offer practical and beneficial retractable pool enclosures made for any harsh weather conditions. We also provide an extensive retractable roof warrant we could discuss before making a deal.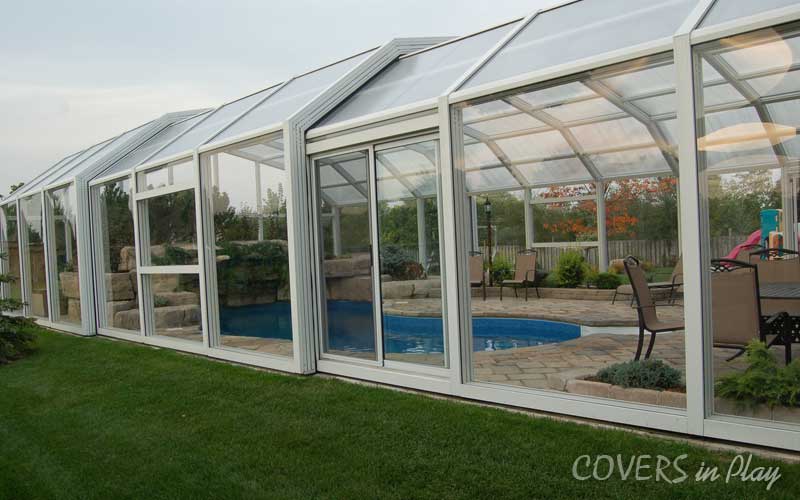 We understand that pool enclosures are valuable investments homeowners deserve to enjoy for years without worry. We're also aware that nobody would like to spend so much money and effort on structures that would only last for a year or less.
It's worth noting that one of the pool enclosures we provided withstood Hurricane Sandy. It stood still even when exposed to 100 mph winds for more than five hours! Once the storm ended, the enclosure merely needed wheel adjustments, a simple procedure.
But how do our retractable pool enclosures at Covers In Play differ from the rest? How are they solid and durable? Here are a few reasons:
The structure has a patented prestressed framing system made of premium and high-quality materials. They are made of aluminum mainframes with concealed stainless steel tie rods. Such steel rods would structurally pre-load the enclosure so the system can withstand heavier wind and snow loads.
We design our pool enclosures' framing with the newest engineering tools.
Our pool enclosures have a patented drive system.
We have a 20-year warranty for our pool enclosures as we are very confident in what we provide. You won't have to remove snow to keep the pool enclosure warranty, as they can withstand high levels of snow load!
The enclosures have an aluminum frame finish that resists humidity, gloss shifting, and color changes. The structure's durability and meet the criteria of the American Architectural Manufacturers Association 2605 specification.
We would customize our pool enclosures' designs and layouts, strictly following unique building code requirements.
Wrapping It Up
We hope that this article on the pool enclosures guarantee gave you more of an idea on how to select the best manufacture. If you're still searching for a reliable manufacture for your future pool enclosure, contact us now, and let's discuss what we can do for your pool's needs.