As the weather gets colder, you spend less time outdoors to stay warm at home. No one sets foot on the patio for a few months, which ends up being a seasonal space. But have you ever considered trying to get more use out of the outdoor area? That is where a patio enclosure comes to play.
Whether the sun's shining a little too bright or the snow begins to freeze our insides, you can enjoy the patio the way you deserve to.
Read on to learn about the benefits of a patio enclosure for the Canadian climate.
What is a Patio Enclosure?
As the name suggests, patio enclosures are an extension of your home that enclose the outdoor area, protecting it from the elements. These enclosures are designed in ways that allow natural light and outdoor view in the patio without the extreme hot or cold weather from ruining your furniture or time "outside."
There are also retractable patio enclosures similar to sunrooms or solariums, this time on wheels. These enclosures offer outdoor views but with an indoor setting. The difference is that retractable patio enclosures allow you to open up to the backyard.
The Types of Patio Enclosures
There are many kinds of patio enclosures to choose from, matching your home's overall design and personal preferences. Each patio enclosure type has unique benefits, from different styles to materials.
Patio Screen Enclosure
You can find beach homes and cottages with large patio screen enclosures, which allow the air to flow through screens without bugs getting in. It's also suitable for people who want to stay outdoors even while raining. However, it isn't the best for the Canadian climate, especially when the winter season comes.
Glass Patio Enclosure
Glass patio enclosures are known as a sunroom, letting in a lot of natural light for better ambiance and brightness. Most sunrooms are made for year-round use, coming with different styles, frame finishes, door types, among other custom features. Sunrooms also allow your patio to have more climate control with cooling and heating.
For those who want more airflow in their sunroom, then you can choose to replace a few panels with rolling glass or screen panels.
Vinyl Patio Enclosure
Vinyl patio enclosures protect your space along with your furniture, keeping it warm and dry. Some of these enclosures can be do-it-yourself projects or have custom-designed by enclosure companies.
These patio enclosures are mounted on frames or will be directly attached to your patio's frames.  
However, these enclosures have drawbacks, such as yellowing due to UV exposure, scratching easily, or even bowing from the humidity and temperature changes. Moreover, this enclosure requires special cleaners to avoid any streaking, which could drive up the long-term costs.
Acrylic Patio Enclosure
If vinyl patio enclosures feel flimsy but glass is too pricey, then you can get a good balance with acrylic patio enclosures. These panels are made of rigid clear plastic, which looks like glass but lighter.
Furthermore, the panels are easy to store and damage-resistant, as they don't shatter like glass. That way, it's safer to handle.
 Aluminum Patio Enclosure
Aluminum patio enclosures are more cost-effective than conventional construction methods, which are time-consuming and costly.
These enclosures can come with framed walls or an aluminum roof made from panels locked together, so it becomes solid and weather resistant. What's excellent about aluminum outdoor patio enclosures is that they won't require much maintenance, such as repainting and cleaning.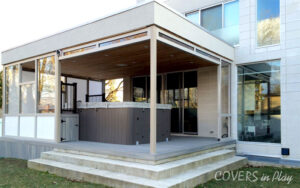 All of our enclosures are made with an aluminum frame, finished with high-quality architectural paint coming in varied colors. The finish won't only appear attractive, but they are also resistant to color change, chalking, high shine shift, chemical cleaning, and moisture.
Retractable Patio Enclosure
Patio enclosures allow homeowners to use their patios during any weather, though some enclosures aren't best suited for the cold winter. Aluminum, glass and acyrlic patio enclosures can truly keep the cold out compared to other enclosures, unlike those made of screen panels.
That said, retractable patio enclosures made from aluminum can give you the best of both worlds. There are retractable mechanisms built in, allowing it to open up during nice weather or close in winter.
Homeowners can choose among designs of retractable patio enclosures, such as separate retractable screens or glass panels raised via powered control. Other options include frameless glass panels sliding on a track for easy opening and closing, which are easier to install without needing a power source.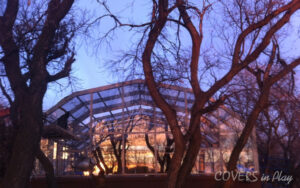 At Covers In Play, we offer pool enclosures made for the patio, with similar designs and structures to perform efficiently all year long. Our retractable patio enclosures are made with a patented framing system with aluminum frames and stainless tension rods, which are then sealed with polycarbonate and glazed with clear acrylic.
Temporary Patio Enclosure
When homeowners want a heated patio when the colder months come, temporary enclosures offer weatherproof protection at a much more affordable price. After the weather ends, the patio can be converted back to its original open space. It's also suitable to keep bugs away while still promoting proper airflow.
There are various kinds of temporary patio enclosures, such as:
Insulated curtains
Dropdown panels
Mosquito curtains
Vinyl patio panels
Removable screen panels
That said, it would be a bit of a hassle having to install or take down the enclosure every time the weather changes. Furthermore, some homeowners may not like the design or how the patio looks with these enclosures!
Benefits of a Patio Enclosure
Now that you know more about what outdoor patio enclosures you can avail of, the next question is: How do these enclosures benefit me?
Here are just some of the advantages you can reap from investing in high-quality patio enclosures:
A patio enclosure encourages you to spend more time outdoors
The hot or cold weather won't drive you indoors when you have a covered patio. If you have an uncovered patio, you won't be able to enjoy it as much, especially when it starts raining or snowing.
Patio enclosures will give you more control of how you use and when you visit your patio, especially when you choose retractable ones. Plus, you won't have to deal with insects like mosquitoes getting into the house during the summer!
Brighten up your home's interior with a patio enclosure
Since our patio enclosures our built with UV-blocking properties, sunlight can come through without worry of a sunburn. There's no need to draw curtains or find shade. You can enjoy the natural sunlight and outdoor view, improving your patio's ambiance.
Make your patio an additional place for family and entertainment
Whether the patio is for barbecuing, working, reading, or chilling in your hot tub, an enclosed outdoor area will be available all year round for all your events. Use it as a space for family and friends, even during the cold winters! You have more space for entertaining your guests and another way to have fun with loved ones rather than the usual indoor activities.
Add value to the house
Investing in a patio enclosure can have you pay dividends when selling your house. Outdoor spaces offer value, and the more comfortable and usable a space is, the better!
Protect your outdoor furniture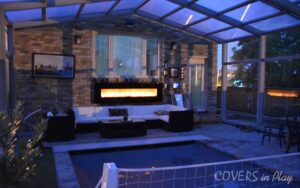 When you have a covered patio, you won't need to worry about your patio furniture warping or fading from the sun. Nor will you need to worry about the rain or winter ruining it. With added protection from a patio enclosure, you won't have to panic and move your furniture and cushions to a covered space when poor weather hits. 
Besides that, a patio enclosure can offer more security to deter thieves. Lock your patio so you can make it a secure space for your furniture, sports equipment, bicycles, and the like.
Keep the outdoor space dry and protected
Inclement weather is inevitable, but don't let it stop you from being able to host a barbecue party, relax in the hot tub, or read with the outdoor views. You get to enjoy your patio even when it isn't sunny!
Furthermore, unlike traditional pergolas, patio enclosures would help keep your patio cool with its UV-blocking properties. It will protect you and your patio area from the UV rays while keeping rain and snow away.
Extend your garden's growing season
Do you have a garden? Then you'll be happy with this advantage! Many Canadian gardeners feel frustrated because of the country's short growing season.
But with patio enclosures, you can extend that season substantially. The enclosure will give your plants even more time to grow, and the blooms tend to last longer as long as it isn't subject to freezing temperatures or harsh sunlight.
You can choose solarium enclosures if you love stargazing and have sun-loving plants! These enclosures can help harden seedlings before you plant them in the garden.
Wrapping It Up
Outdoor patio enclosures will offer all homeowners an opportunity to bring their outdoors inside. Here at Covers In Play, we offer various enclosures and retractable roofs made for all kinds of weather, suiting individual needs. If you're interested in investing in a patio enclosure, feel free to contact us to get a quote.