When summer comes, you know everyone's about to dive into the pool! After all, swimming is an extremely popular activity during hot summer months. It's an awesome way to stay cool while getting exercise. That said, swimming pools may pose significant safety risks if you don't take proper precautions. To ensure everyone's safety in the pool, you must implement effective safety features in and around the pool area. Some of the ways to help maintain everyone's safety includes having outdoor swimming pool enclosures, glass pool covers, or pool dome covers.
Let's take a closer look at the features of swimming pool safety below!
Features of Swimming Pool Safety
Outdoor Swimming Pool Enclosures
Outdoor swimming pool enclosures are structures covering the entire pool area. This provides an additional protective layer against external factors including the rain, wind, or snow. Such enclosures are made of durable materials such as aluminum or polycarbonate, making them strong enough to withstand harsh weather conditions.
An outdoor swimming pool enclosure allows you to keep your pool clean while preventing debris like leaves and insects from getting into it. Moreover, outdoor swimming pool enclosures will act as a barrier preventing unauthorized access from animals or children.
These enclosures come in different designs, shapes, and sizes, meeting specific needs and preferences. You can opt to have fixed and permanent enclosures installed, or invest in retractable ones to open and close whenever necessary. Retractable enclosures are also very useful for those who want more flexibility to enjoy an open-air pool when the weather's great, or a covered pool when the opposite happens.
A huge advantage of outdoor swimming pool enclosures is how they help extend your swimming season. An enclosure allows you to use your pool for longer periods, even during winter. The enclosure will trap heat, keeping the pool water warm so you can enjoy your pool during the cold weather.
Moreover, outdoor swimming pool enclosures offer more privacy, so your pool area is more secluded and peaceful. An enclosure will allow you to enjoy swimming without worrying about any prying eyes from neighbors and passersby. It can also reduce outdoor noise levels, giving you a more peaceful environment for you and loved ones.
And finally, outdoor swimming pool enclosures are valuable additions to any home as it adds an aesthetic appeal and increases your property value. A well-designed enclosure has you create a functional and attractive space complementing your house's interior and exterior designs. This can attract potential buyers if you plan on selling your house!
Glass Pool Covers
Glass pool covers are another important safety feature which helps with everyone's safety within the pool area. These types of covers are a great way to protect the pool from dirt and debris, as well as keeping everyone safe from accidental falls. These covers are made of tempered glass, a durable material able to withstand impact. Glass pool covers are also transparent so you can see the water underneath while keeping the pool safe.
That's not all! Glass pool covers also feature more advantages, making them a popular option among pool owners. A huge benefit these covers have is how they provide adequate insulation, keeping your pool warm and comfortable. Tempered glass materials are poor heat conductors so it retains the pool water's temperature and reduces heat loss. As such, you can save energy on pool heating bills while still feel comfortable in your pool
Another great advantage of glass pool covers is how durable they are. The material used is scratch-, crack, and shatter-resistant, so you are assured they are low maintenance and last long. With proper care, these covers can last for years!
Moreover, glass pool covers have a high level of visibility. It is a clear and transparent material so you can see the water underneath. This will allow you to see the pool's cleanliness. You'll also have a clear view of the surrounding area, making it easier to watch your pets and children around the pool.
Lastly, these covers can add an aesthetic appeal to the pool area. It has a sleek, modern design that complements your property's architecture and landscape design so you have a visually appealing and functional space. They even come in varying shapes and sizes so it can fit your pool's specific dimensions.
Pool Dome Covers
Pool dome covers are yet another type of pool cover that is gaining popularity among pool owners. These covers are typically made from durable materials like PVC and are designed to provide protection against the elements. Pool dome covers are easy to install and provide excellent protection against leaves, debris, and insects. They are also an effective barrier against unauthorized access, especially for children. With a pool dome cover, you can rest assured that your pool is protected from external factors, and everyone who uses it is safe.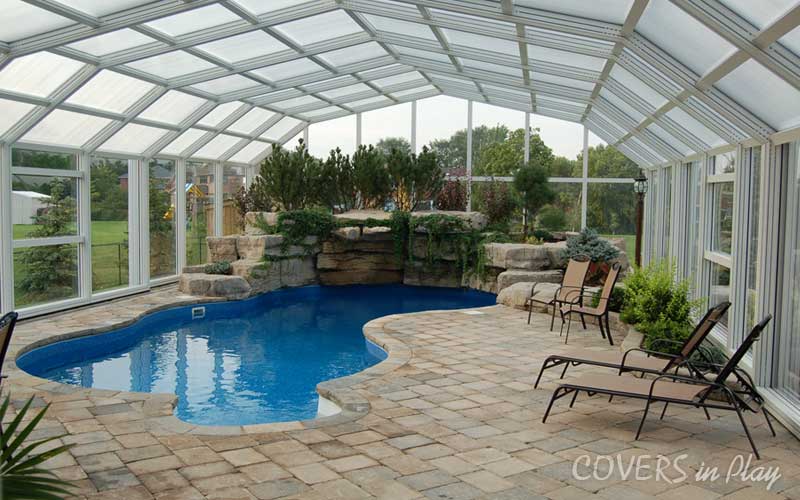 Pool dome covers are a popular choice for pool owners who want an affordable and practical solution for keeping their pool clean and safe. One of the significant advantages of pool dome covers is their ease of installation. They come in pre-fabricated kits that are easy to assemble, meaning you can install them yourself without the need for professional assistance.
Pool dome covers also provide an effective way to keep leaves, debris, and insects out of the pool. The cover acts as a barrier that prevents external factors from getting into the pool water, keeping it clean and healthy. This reduces the need for regular maintenance and cleaning, saving you time and effort.
Another great advantage of pool dome covers is how they protect your pool against harmful UV rays. The material is UV-resistant, which reduces the amount of UV light penetrating the pool water. This will also help reduce the risk of skin damage and sunburns, particularly during the summer.
In conclusion, it's important to maintain everyone's safety within the pool area. This can be done by implementing effective safety features such as outdoor swimming pool enclosures, glass pool covers, and pool dome covers, which are some of the most critical safety features that can help maintain everyone's safety. When you invest in these features, you can benefit from them in many ways as they can keep your pool clean, prevent accidents, and ensure that everyone who uses it is safe.